In 1998, a group of a dozen business and community leaders in Horry and Georgetown counties were brought together by a shared passion for their community and a desire to give back to the place they called home.
David Bishop, president of WCI Management Inc. at the time, had a charitable fund at the Foundation for the Carolinas, a community foundation in Charlotte. He felt, as the others did, that the Waccamaw area deserved its own community foundation. They were drawn to the idea that by providing local donors with an efficient avenue for charitable giving, support for regional nonprofits would grow.
So, they set out to make it a reality.
In April 1999, Waccamaw Community Foundation was officially granted nonprofit status by the Internal Revenue Service. Mr. Bishop became the foundation's first president, while the founding members served on the board. They were: Jimmy Johnson, Helen Andrews, Jim Call, Paula L. Ellis, Erick Ficken, Michael C. Gerald, Laura Jackson Hoy, R.M. Lindsay III, Paul Malone, Clyde W. Port and George D. Taylor.
With their leadership, combined with the generosity of this region's donors, Waccamaw Community Foundation reached $1.7 million in assets under management within its first two years.
Now in its 20th year, Waccamaw Community Foundation manages $32 million in total assets, and has awarded $24 million in grants and scholarships since its inception.
In 1999, the Foundation established the crucial role it plays in times of need. Its first grants ever awarded went primarily to organizations helping the area recover from floods brought on by Hurricane Floyd.
The Foundation's Disaster Relief Fund has now become an essential lifeline for the region after flooding disasters. In the past year, the fund has awarded more than $400,000 to organizations working to repair or rebuild properties damaged by Hurricane Florence in 2018.
To capture how Waccamaw Community Foundation has made a difference over the past 20 years, we turned to some of the donors and nonprofits who have made our work possible.
Laura Jackson Hoy, WCF fundholder and founding Board member who served until 2009, said she gained a deep appreciation for endowed philanthropy through her experience with the Foundation.
"We're not going to be here forever, and if you give into an endowment, your good idea goes beyond you," she said.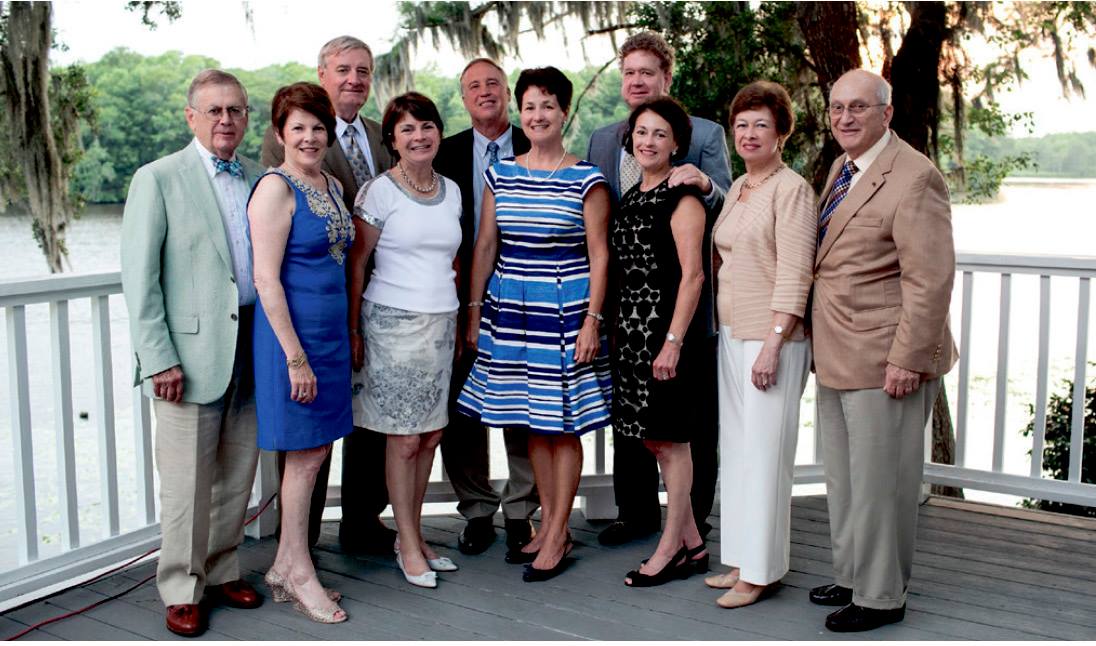 Mrs. Hoy, along with her four sisters, established the Jackson Family Center for Ethics and Values at Coastal Carolina University partly through their donor-advised fund at Waccamaw Community Foundation.
"Working with and through the community foundation has enabled us to do greater things in the community than we may have been able to do otherwise," she said.
Sue McKinney, Community Outreach Coordinator at Barnabas Horse Foundation, said Waccamaw Community Foundation's support over the years has been "huge" for the organization. Waccamaw Community Foundation sponsors the care of Compliments, one of the therapy horses at the Murrells Inlet nonprofit that works with individuals with disabilities and those who have experienced trauma. Since 2015, WCF has awarded $10,000 to Barnabas Horse Foundation.
"Waccamaw Community Foundation's support is huge for us because we don't charge for the equine-assisted therapy," Ms. McKinney said. "We have 28 horses in our program and they all have to be supported. We are strictly a therapeutic program so the sponsorship of Compliments is huge for us. It covers all of his medical bills, his feed throughout the year and enables us to give our horses the best care possible."
Harold Stowe, former board chair and fundholder at Waccamaw Community Foundation, said the foundation is the perfect way to carry out collaborative philanthropy. Years ago, when his family and friends got together for their annual Christmas gift exchange, he posed an idea. Rather than give each other gifts each year, they could pool their money and set up a fund for charitable giving at Waccamaw Community Foundation.
Now called the Friendship Foundation, the fund has granted out more than $100,000 and continues to support local causes that Mr. Stowe's group of friends and family members care about.
"It's also helped us pass down the meaning of philanthropy to our children," Mr. Stowe said. "I think in many ways, having the Friendship Foundation has encouraged the next generation of our families to keep on being involved and to keep supporting things that were important to them."
Another longtime fundholder, John Draughn, said he appreciates the convenient and thorough service Waccamaw Community Foundation provides. He and his wife, Trena B. Draughn, have a scholarship fund as well as donor-advised fund. He said the best thing about giving through Waccamaw Community Foundation is the local impact they're able to have.
"You're dealing with local board members, local needs," he said. "It's not going out of town. It's pretty much a locally-based, needs-based organization."